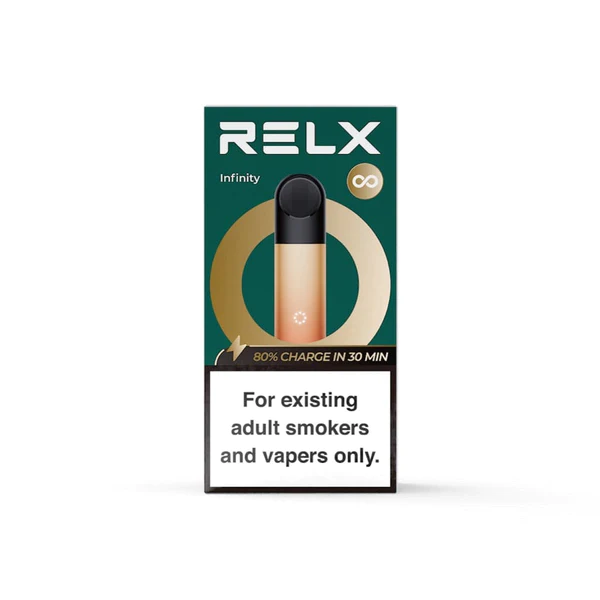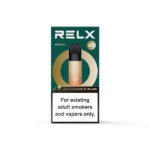 RELX Infinity Single Device – Phoenix Flare
RELX | RELX INFINITY Device
The RELX Infinity device, which was recently bestowed the Red Dot Design Award, is a unibody vape with a premium design. The finish is a metallic aluminum alloy and is satin smooth. The LED indicator is a light ring, which delivers an extra layer of texture to the design. To charge the device, there are two methods: simply plug in with the Type-C charger or the pogo-pin, which lets you charge your device wirelessly with compatible Infinity accessories.
Super Smooth Performance  –  Leak-Resistant Maze    –   Dual Charging System
The RELX infinity measures at 112 mm x 23 mm x 10 mm and weighs in at around 25 grams with a full pod on.
It is very similar in size and weight to RELX's previous offering, the RELX Classic, but it feels better in the hand due to the more rounded design.
Reddot Winner 2020,  Ergonomic Mouthpiece Design,  Smart Pace Vibration Alert
Comfortable Temperature <55 degrees celsius vapor temperature,  Optimized Draw Resistance 0.4 kPa tolerance,  <10dB inhalation sound,  6-7.5mg total weight of each puff,  Dual charging system (Charging dock or USB type-c cable),  Up to 2 days of extra battery life,  LED light color-coded,  Symmetrical pods,  Short circuit protection,  400 puffs per charge cycle
*This product contains DEVICE ONLY.
**Pods Sold Separately.
***NOT FOR SALE TO MINORS.